After you give birth you may find your breasts become really sensitive. If this is the case we recommend the Anita black 5075 nursing bra. The reason this bra helps women who have sensitive breasts is that it has no seams and is made from a soft microfibre.

In brief this bra is:

- Wirefree
- Non padded
- 32-42 B-E Cups
- Also available in other colours
- 80% nylon, 20% elastane
- Seamless cups

More details:

Looking for a supportive breastfeeding bra that will also give you a great shape? The 5075 has pre-formed cups which are also breathable, which helps to make it even more comfortable. It does not have an underwire and this bra is soft and silky to the touch..

So what is it like to wear? You will love how light it feels yet it really is very supportive. When it comes to actually feeding your baby, you will like the fact that the cups can be opened and closed with just one hand, so you won't be fumbling around!

****Please see the "FITTERS COMMENTS" tab for this bra****

What about sizing? This bra has a slight stretch to it and the straps are elastic and adjustable, which means you should be able to get the perfect fit. The back of the bra has 2 hooks with 3 position fastening, again giving you more flexibility to find the perfect size.

You will be pleased to know that you can machine wash this bra and then hang it to dry, but do not iron this bra!

Why choose the Anita 5075 black nursing bra? It offers really good support, is well priced and will give you a great shape. Furthermore, you will find it really comfortable especially if you suffer from sensitive breasts.


We want to make sure you know exactly what the bra is like so you are not surprised when it arrives, so here are some quick questions and answers from us studying the bra, out of the packet, in depth.

Is this bra underwired? No

Does this bra have a "modesty panel" that covers the top of your breasts (i.e when the cups are open does it have material to help make it more discreet behind the cups? This is also called an "A-Frame nursing bra". No it has a side sling of material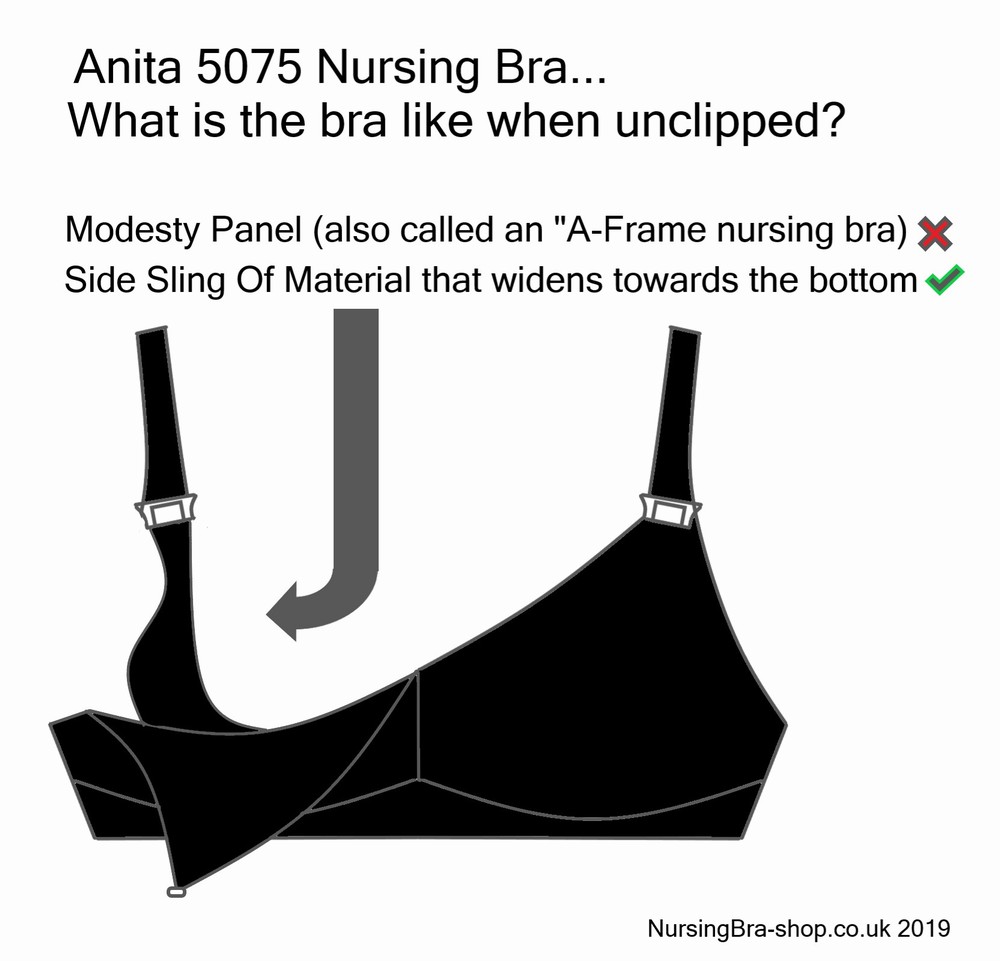 What is the "side sling" like?
A piece of material which we think is quite stretchy and goes under the breast
Is this bra padded?
No
Does it have a pre-formed or molded cups?
No
How stretchy is the fabric on the cups?
We think it has a really nice stretch to it
Does the bra have removable foam inserts in the cups?
No
Would it be suitable as a T-shirt nursing bra?
A little bit! The material is really very smooth but it is not a true "T-shirt nursing bra in that it is not padded or molded
Would it be suitable as a Sleep nursing bra?
Not really
Does this bra have an option to buy matching briefs?
No
How to verify the Nursing Bra Shop....
"I have never heard of the Nursing Bra Shop....how can I find out what the service is like?"
Simple - ask any online mums forums you are on if anyone has used us. We always
STRONGLY URGE
you to check on us in any Facebook breastfeeding groups or other maternity or mums groups such as Mumsnet etc. Maybe ask if anyone has ever used the Nursing Bra Shop? What was our service like?
Here are some places to ask questions about the Nursing Bra Shop:
- Facebook breastfeeding groups
- Mumsnet
- Online Bounty Groups
- Netmums
But please ask the question in any forums. 89% Of UK mothers have never heard of the Nursing Bra Shop. Asking forums is a good way of checking on us. Don't take our word for it....ask other mothers who may have used us!
Anita sizes work a little differently to UK sizes ...especially after D cup...here are how they match up:

B cup in Anita is B Cup in UK size
C cup in Anita is C Cup in UK size
D cup in Anita is D Cup in UK size
E cup in Anita is DD Cup in UK size

So, for example, if you would normally wear a 34DD bra in other manufacturers, we suggest you pick and Anita size 34E

MATERIAL THICKNESS OF CUPS:
We try to rate how thick the cups are of each bra, so you are not surprised by this when the bra turns up! We rate this out of 5, so 1/5 is thin cups, 5 out of 5 is thick. We would rate the thickness of the cups of the cups of this bra as 2 out of 5.

WIDTH OF BRA STRAPS
How wide are the straps of this nursing bra? We measured a B cup bra and it came out as 17mm (compare this to one of your own bras to see how wide this feels). The straps then rise to a width of 19mm once you get to an C cup and above. So B cup, it is 17mm, then from C-E it is 19mm.
How much does delivery cost?
Delivery is free in the UK, and £1 anywhere else in the world.

How long does delivery take?
If you place your order before 4pm on a working day (Monday to Friday), in most cases your order will be despatched by Royal Mail 48 Hour Service, so you should get it within 1 to 2 working days! If you place your order on a Saturday, Sunday or Bank Holiday, we usually despatch the next working day, so again, you should get it the day after this.

I am based abroad – how long does delivery take?
In Europe, you should get your goods within five days, and outside Europe, you should get then within eight days.

For more info please click here.