How about a padded underwire nursing bra that has soft, pre-formed cups? We really love the Anita 5059 underwired nursing bra in a "powder" colour. It is also one of our best ever bargains, as this bra should normally sell for over £50 !

Brief Overview

- Limited sizes remaining
- Underwired
- Not padded
- Soft Pre-Formed Cups
- Ideal as a T-shirt nursing bra

It has quite a low neckline, but it will also give you full coverage. The fabric of this nursing bra is crafted from a unique "spacer" fabric, which means that you should find it very breathable. This spacer fabric is a double-layer microfibre that has air padding.

****Please see the "FITTERS COMMENTS" tab for this bra****

How about the cups of this nursing bra? Well, they are pre-formed which should give you a really nice shape, definition and a nice uplift too! The cups themselves are seamless, helping to make this bra very comfortable.

Would you prefer a nursing bra you can wear under T-Shirts? Then this bra may be perfect for you!

The underwires of this nursing bra are C-Shaped and are flexible. They are also non-restricting – this helps the bra mould to your every movement.

So why would we recommend the Anita 5059 underwired nursing bra? This bra is one of our best ever bargains and really is an exception quality bra. It should give you a lovely shape and you should find it really comfortable and cool to wear.

We want to make sure you know exactly what the bra is like so you are not surprised when it arrives, so here are some quick questions and answers from us studying the bra in depth.

Is this bra underwired? Yes

Is the underwire firm or flexible? Quite firm

Does this bra have a "modesty panel" (i.e when the cups are open does it have material to help make it more discreet behind the cups? This is also called an "A-Frame nursing bra". No it has a side sling of material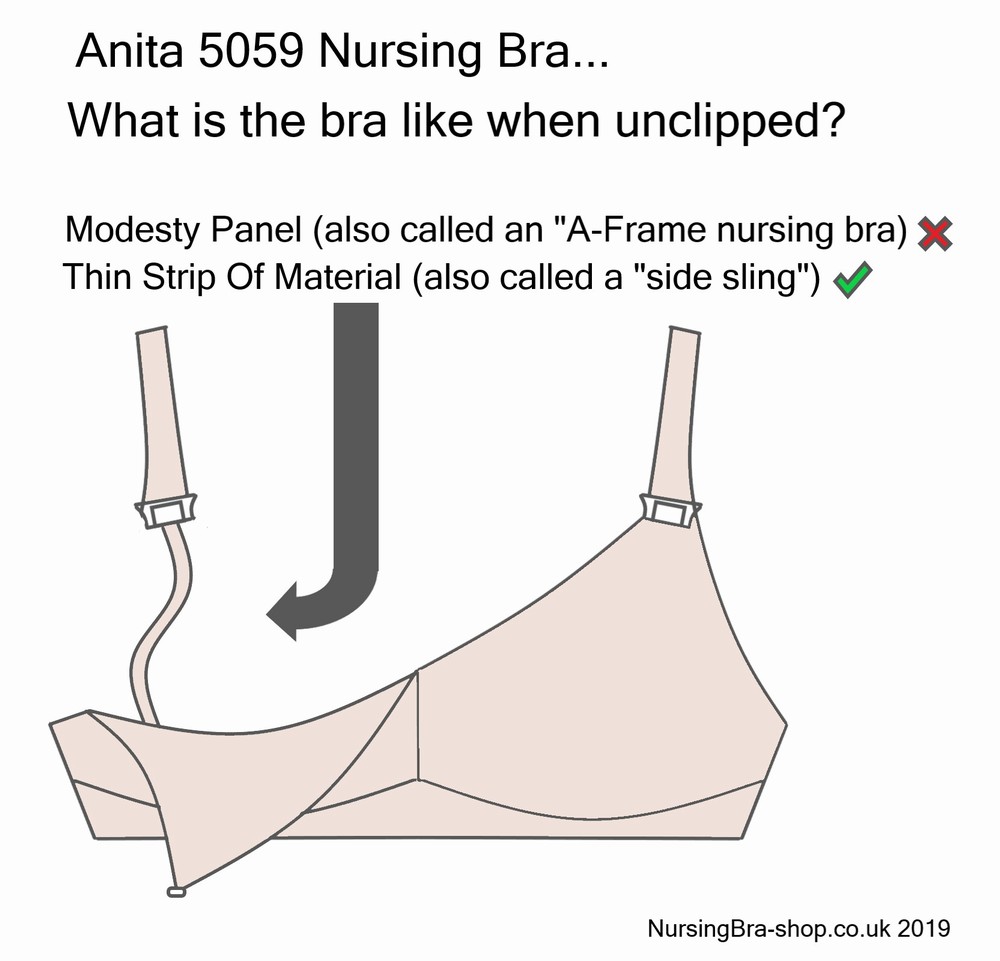 What is the "side sling" like?
A straight strip of stretchy material
Is this bra padded?
No
Does it have a pre-formed cups?
Yes
How stretchy is the fabric on the cups?
It is not very stretchy at all
Does the bra have removable foam inserts in the cups?
No
Would it be suitable as a T-shirt nursing bra?
Yes
Would it be suitable as a Sleep nursing bra?
No
How to verify the Nursing Bra Shop
"I have never heard of the Nursing Bra Shop....how can I find out what the service is like?"
Simple - ask any online mums forums you are on if anyone has used us. We always
STRONGLY URGE
you to check on us in any Facebook breastfeeding groups or other maternity or mums groups such as Mumsnet etc. Maybe ask if anyone has ever used the Nursing Bra Shop? What was our service like?
Here are some places to ask questions about the Nursing Bra Shop:
- Facebook breastfeeding groups
- Mumsnet
- Online Bounty Groups
- Netmums
But please ask the question in any forums. 89% Of UK mothers have never heard of the Nursing Bra Shop. Asking forums is a good way of checking on us. Don't take our word for it....ask other mothers who may have used us!
Anita sizes work a little differently to UK sizes ...especially after D cup...here are how they match up:

C cup in Anita is C Cup in UK size
D cup in Anita is D Cup in UK size
E cup in Anita is DD Cup in UK size
F cup in Anita is E Cup in UK size
G cup in Anita is F Cup in UK size

So, for example, if you would normally wear a 34F bra in other manufacturers, we suggest you pick and Anita size 34G

MATERIAL THICKNESS OF CUPS:
We try to rate how thick the cups are of each bra, so you are not surprised by this when the bra turns up! We rate this out of 5, so 1/5 is thin cups, 5 out of 5 is thick. We would rate the thickness of the cups of the cups of this bra as 4 out of 5. So quite thick.

WIDTH OF BRA STRAPS
How wide are the straps of this nursing bra? We measured a C cup bra and it came out as 16mm (compare this to one of your own bras to see how wide this feels). The straps then rise to a width of 19mm once you get to an F cup and above. So from C-E, it is 16mm, then from F and above it is 19mm.
How much does delivery cost?
Delivery is free in the UK, and £1 anywhere else in the world.

How long does delivery take?
If you place your order before 4pm on a working day (Monday to Friday), in most cases your order will be despatched by Royal Mail 48 Hour Service, so you should get it within 1 to 2 working days! If you place your order on a Saturday, Sunday or Bank Holiday, we usually despatch the next working day, so again, you should get it the day after this.

I am based abroad – how long does delivery take?
In Europe, you should get your goods within five days, and outside Europe, you should get then within eight days.

For more info please click here.