Are you looking for a really comfortable butterscotch nursing bra? If so, then we highly recommend the Bravado Body Silk seamless nursing bra.

So why do we think you will find it so comfortable? It is designed to "melt" onto your body. Not only does this make it really comfortable, it also should give you a lovely shape too!

Furthermore, it comes with removable foam cups. This gives you the option of having thicker cups if you would like them!

This nursing bra is also virtually invisible under clothing!.

This bra is also a good choice with health professionals. They tend to suggest that you should, if possible, avoid underwires. So you will be pleased to know that this bra is wirefree.

It is also generally suggested that you should give your baby full skin-to-skin contact when feeding. So again, you may be pleased to know that the cups fully drop away from the bra.

Are you unsure which size nursing bra you should pick? This bra helps to make this choice really easy. Rather than picking, for example 34D, you would pick the size (either small, medium, large, extra-large, or Extra-Extra large. Each size also covers several cup sizes, so as your body changes, the bra should still fit you really well. Not sure which size to pick? See the table below.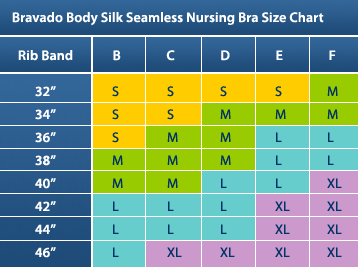 Basically;

Small covers sizes 32B, 32C, 32D, 32E, 34B, 34C and 36B

Medium is for 32F, 34D, 34E, 34F, 36C, 36D, 38B, 38C, 38D, 40B and 40C

Large is for 36E, 36F, 38E, 38F, 40D, 40E, 42B, 42C, 42D, 44B, 44C, 44D and 46B

Extra-Large covers 40F, 42E, 42F, 44E, 44F, 46C, 46D, 46E and 46F

Finally EXTRA-EXTRA Large Size covers 40G, 42G, 44G and 46G


This bra comes in black, ivory, pink ice, latte, silver belle or white blush. Please see our Bravado section for these other options. As the sizing is so flexible, we think it makes a perfect gift for a friend or partner!

So why do we think you should choose this bra? Well, it is incredibly comfortable and is one of our top-selling nursing bras! A great choicde