If you want a supportive nursing bra, how about the Bravado Bliss nursing bra? We absolutely love this bra, and it has quickly become really popular with our customers. Instead of a rigid underwire, it has the revolutionary Flexi-Fit support channel. This is very flexible, yet will still give you structured under-breast support.

How about the shape of this nursing bra? Well, it has smooth, seamless cups that are moulded to help keep the bra discreet. Would you prefer a bra that you can also wear under T-Shirts or tight clothing? Then the Bliss nursing bra may be perfect for you as it offers you a seamless appearance under tight clothing – tops just glide over the fabric. Even the flexible channel is invisible under clothing, so you should have a stunning silhouette!

This bra is available in Ivory, Black or Chai (which is similar to a butterscotch/skin colour).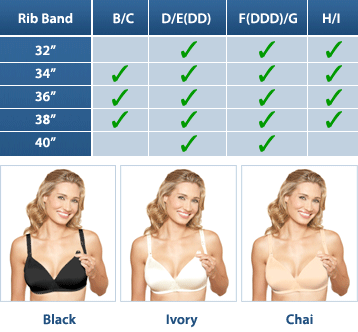 Is support important to you? If so, then we think you will love how well supported you will feel with this bra.

If you would also prefer a nursing bra with some nice detail, then we think you will love the finishing touches such as the delicate centre front detailing and the embroidered straps – it will make you look and feel really feminine!

How about the cups? Well, it features light foam cups which are perfect for hiding your nipples or breast pads. This bra also has a low neckline and a luxurious satiny finish – it feels lovely!

If you are not certain which size breastfeeding bra to choose, then this bra may be perfect for you. It has double cup sizing. This means that one bra covers two cups sizes – for example, 34DE, 38FG or 32HI – pick your perfect size from the drop-down menu. Your body changes on a daily basis in the weeks and months after you give birth, so having a bra with this flexible sizing system means that you should always have a comfortable nursing bra!

So why should you choose the Bliss nursing bra from Bravado? Well, it offers you gentle support, yet the under-breast channel is very flexible rather than rigid, making it more comfortable. It should give you a lovely silhouette under tight clothing and the flexible sizing system will help you get a nice fit really easily!