The Bravado Seamless nursing bra is really comfortable. One of our best selling nursing bras, you will find that it gives you a really nice shape thanks to the moulded foam cups. It also offers really good support.

This bra is in Lilac, but you could also choose it in ivory, black, butterscotch, latte, silver grey or white blush...see the Bravado section to find these colours.

This seamless bra is designed to "melt" onto your body...this helps it look and feel great. It also has removable foam cups...so you have the option of thicker cups.

This bra is not underwired (health professionals tend to suggest you should avoid, if possible, underwired nursing bras). We think you will find it remarkably comfortable.

The cups drop away fully from your breast...so your baby will benefit from full skin-to-skin access.

You can also wear this as a pre-natal maternity bra....meaning you should get a really long life from the bra.

Are you not sure which size you should pick? This bra has only four sizes (small, medium, large and extra large). Each size covers a variety of cup and back sizes...please see the chart below...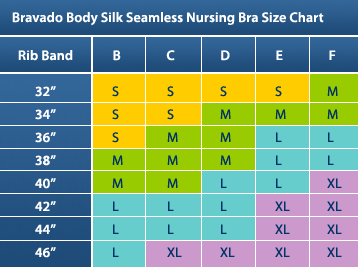 So why do we think you will love the Bravado Seamless nursing bra in lilac? Well, the bra stretches as your size changes, which means you should always find it really comfortable. Many of our customers have said that they have never worn a more comfortable bra in all their lives! We think you will love it.
MATERIAL THICKNESS OF CUPS:
We try to rate how thick the cups are of each bra, so you are not surprised by this when the bra turns up! We rate this out of 5, so 1/5 is thin cups, 5 out of 5 is thick. We would rate the thickness of the cups of the cups of this bra as 3 out of 5. Medium thickness.

WIDTH OF BRA STRAPS
How wide are the straps of this nursing bra? We measured a Small, Medium and Large cup bra and it came out as 15mm (compare this to one of your own bras to see how wide this feels). The straps then rise to a width of 19mm once you get to an Extra Large and XXL. So from S-L, it is 15mm, then from XL and above it is 19mm. Each strap has the same length, all the way along. So it does not change as you get nearer the shoulder.
How much does delivery cost?
Delivery is free in the UK, and £1 anywhere else in the world.

How long does delivery take?
If you place your order before 4pm on a working day (Monday to Friday), in most cases your order will be despatched by Royal Mail 48 Hour Service, so you should get it within 1 to 2 working days! If you place your order on a Saturday, Sunday or Bank Holiday, we usually despatch the next working day, so again, you should get it the day after this.

I am based abroad – how long does delivery take?
In Europe, you should get your goods within five days, and outside Europe, you should get then within eight days.

For more info please click here.