We know that comfort is essential during this important time, and for that reason we would recommend the Jungle Print Bravado Body Silk Seamless nursing bra. We believe that this bra will offer you brilliant support and a lovely shape thanks to the moulded foam cups; you obviously agree, as this is our best-selling bra!

This bra is designed to mould to suit your body, giving you the best possible fit. This means it is both comfortable and almost invisible under your clothes. It is also suitable for use before and after the birth of your baby, giving it a longer life and meaning you get better value for money.

So how does it work as a nursing bra? Well, this bra comes with foam cups which can be removed or left in. These slot in to thicken the cups, allowing you to hide your nipples or breast pads and giving you a smoother silhouette.

Experts recommend skin-to-skin contact with your baby, and as the cups drop fully away from the breast this is easy to achieve with this Bravado bra. The nursing clips are easy to open and close with one hand, so you can hold your baby comfortably. It also has no underwire, which some experts believe is important in the prevention of mastitis.

This bra is especially useful if you are not entirely sure which size nursing bra to choose. It only has four sizes, (small, medium, large and extra-large) so it should have more room to contract and grow as it flexes to suit your body as it changes. Please see the chart below to help you choose your size.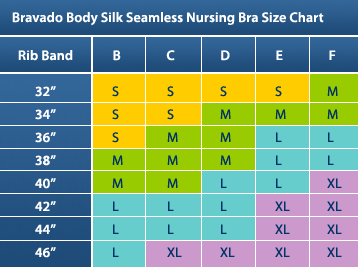 So why do we like this bra so much? We believe that you will find it really comfortable, and will give you a brilliant shape. Our customers obviously agree as it has quickly become our best-selling bra! You even get a choice of colour, as this bra is available in either Jungle Berry or Jungle Purple.