Do you fancy a very comfortable light-coloured nursing bra? If so then we highly recommend the Bravado Body Silk Seamless nursing bra in Antique White.

It's very comfortable and it should give you a lovely shape thanks to the moulded foam cups.

The fabric of this nursing bra is designed to "melt" onto your body and is buttery-soft. What's more, it is also virtually invisible under clothing.

Most breastfeeding advisors tend to suggest that, where possible, you avoid underwires during your nursing months. So you may be pleased to know that this bra is wirefree.

This bra is suitable in the months before you give birth, as well as during your nursing months.

Most women are unsure what size nursing bra they should pick. For example, should you pick a 34F or a 34G? Bravado have made this much easier. It comes in Small, Medium, Large, XL, XXL and also a full cup option in either Medium, Large or Extra Large. Each size covers several cup sizes so, even as your size changes the bra should remain comfortable. Not sure what size to pick? See the table below.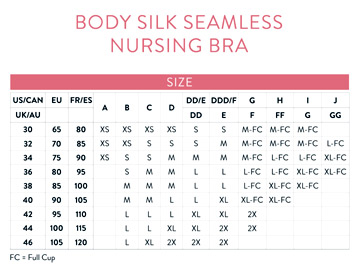 Basically;

The Small Size covers 30DD, 30E, 32C, 32D, 32DD, 34B, 34C and 36B

The Medium Size covers 32E, 34D, 34DD, 34E, 36C, 36D, 38B, 38C, 38D, 40B and 40C

The Large Size covers 36DD, 36E, 38DD, 38E, 40D, 40DD, 42B, 42C, 42D, 44B, 44C, and 46B

The Extra Large Size covers 40E, 42DD, 42E, 44D, 44DD, and 46C

The EXTRA-EXTRA Large Size covers 42F, 44E, 44F, 46D, 46DD and 46E

On the FULL CUP Version the sizes are as follows:

MEDIUM FULL CUP covers 30F, 30FF,30G,32F,32FF,32G,34F

LARGE FULL CUP covers 32GG,34FF,34G,36F,36FF,38F

EXTRA LARGE FULL CUP covers 34GG,36G,36GG,38FF,38G,40F,40FF

This bra is also available in, black, cinnamon, butterscotch, white, cocoa and dusted peony. See our Bravado section for these other choices.

So why would we recommend the Bravado Antique White Seamless nursing bra? Well, we think you will find it extremely comfortable. You should also find it very supportive. Finally, as each size covers several bra sizes, as your body changes it should remain a really nice fit!

We want to make sure you know exactly what the bra is like so you are not surprised when it arrives, so here are some quick questions and answers from us studying the bra… out of the packet….in depth.

Is this bra underwired? No

Does this bra have a "modesty panel" that covers the top of your breasts (i.e when the cups are open does it have material to help make it more discreet behind the cups? This is also called an "A-Frame nursing bra". No it has a side sling of material

What is the "side sling" like? A straight strip of stretchy material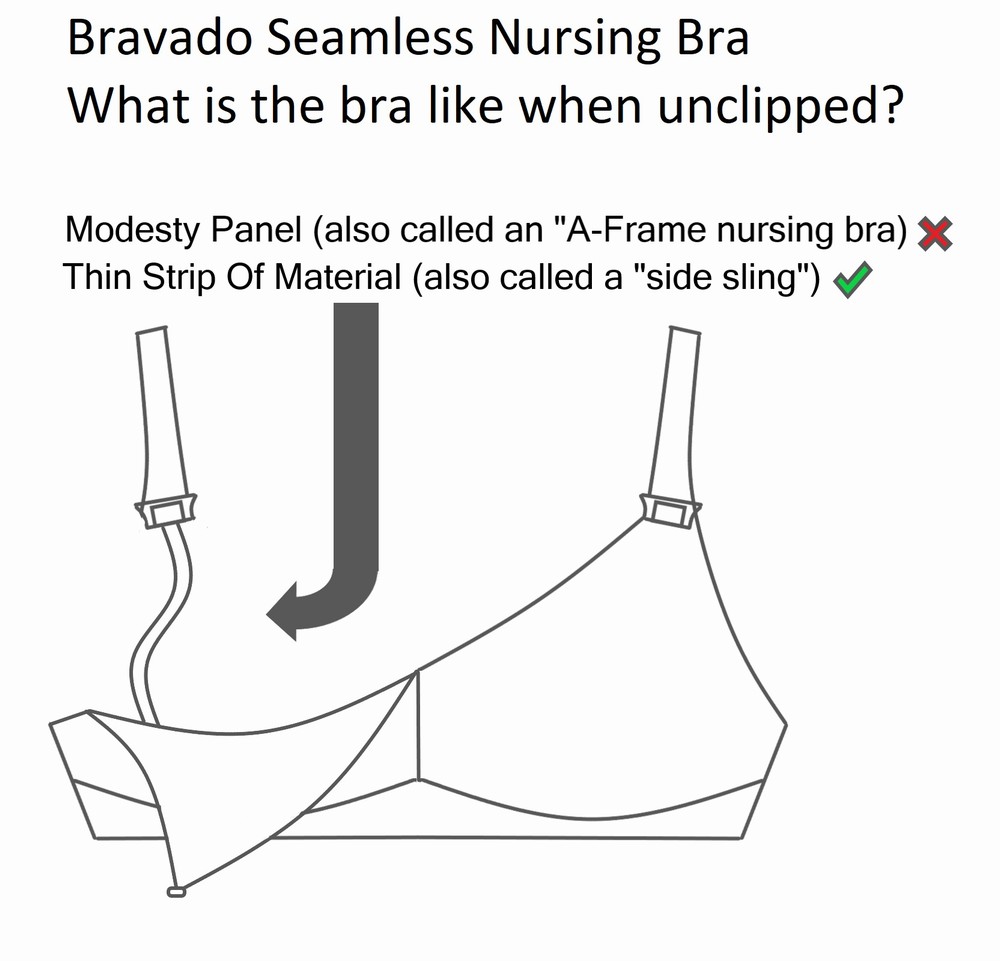 Is this bra padded?
No but it does have removable foam inserts.
Does it have a pre-formed or molded cups?
No
How smooth is the material on the OUTSIDE of the bra?
Very smooth
How stretchy is the fabric on the cups?
This one has stretchy cups
Does the bra have removable foam inserts in the cups?
Yes
Would it be suitable as a T-shirt nursing bra?
A bit!
Would it be suitable as a Sleep nursing bra?
We think so
Does this bra have an option to buy matching briefs?
No
How to verify the Nursing Bra Shop....
"I have never heard of the Nursing Bra Shop....how can I find out what the service is like?"
Simple - ask any online mums forums you are on if anyone has used us. We always
STRONGLY URGE
you to check on us in any Facebook breastfeeding groups or other maternity or mums groups such as Mumsnet etc. Maybe ask if anyone has ever used the Nursing Bra Shop? What was our service like?
Here are some places to ask questions about the Nursing Bra Shop:
- Facebook breastfeeding groups
- Mumsnet
- Online Bounty Groups
- Netmums
But please ask the question in any forums. 89% Of UK mothers have never heard of the Nursing Bra Shop. Asking forums is a good way of checking on us. Don't take our word for it....ask other mothers who may have used us!