Are you searching for a comfortable skin coloured nursing bra? If so, we can highly recommend the Bravado Fawn coloured Confetti nursing bra. We think this is also a great option if you want a low-cut V-neck style bra.

So what makes this breastfeeding bra so comfortable? Well, it comes in a stretchy fabric. This means that as your size changes during the day, the bra will gently stretch to give you a perfect, comfortable fit. It is designed in a super-soft fabric. It is made largely comprising Elastane which allows the bra to mould to your shape and give you great support.

This bra has also been designed to be seamless, which makes it really pleasant to wear. Bravado have also gone to the trouble of making this bra without irritating tags or washing labels....the instructions are even printed on the inside of the bra to stop you getting irritations from the tags you might normally get at the back of the bra.

Why do we think this bra is so pretty? Well, as well as being skin coloured, it also has a light Swiss dot pattern on the cup. It has a lovely lace detailing too. We think you will also like the pretty bow between the cups – it really is both pretty and yet incredibly practical.

What size should you choose? Well, Bravado have helped make this easy for you by making this bra in just four sizes....Small, Medium, Large and Extra Large. This means that one size will cover you over several bra sizes. This makes it easy to pick the right size in the first place. It also means that as your size changes during the day, you will still find that the bra is really comfortable! To find the right sized bra please see the chart below.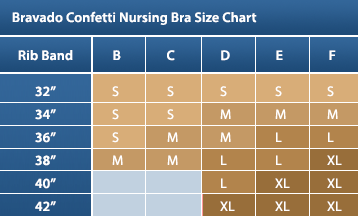 So what are the cups like? Well, they fully drop down. This means that you and your baby get full skin-to-skin contact, as recommended by breastfeeding advisers. It is suggested that, if possible, you choose a bra that is not underwired when you are breastfeeding, so you may be pleased to know this bra is wire-free.

You may also like the fact that this bra is easy to open with just one hand. This means that you won't need to fumble around whilst holding your baby in your other arm.

The Confetti nursing bra is made from 75% nylon, 16% polyester, 9% spandex (excluding the elastic). It can be worn both before and after you give birth helping you get even more value for money.

This nursing bra is also available in both Plum and Black. Please see below for these options.

So why should you choose the Bravado Confetti Skin coloured nursing bra? Well, we think you will find it exceptionally comfortable. It is also really pretty and is perfect if you are looking for a low-cut nursing bra.

We want to make sure you know exactly what the bra is like so you are not surprised when it arrives, so here are some quick questions and answers from us studying the bra… out of the packet….in depth.

Is this bra underwired? No

Does this bra have a "modesty panel" that covers the top of your breasts (i.e when the cups are open does it have material to help make it more discreet behind the cups? This is also called an "A-Frame nursing bra". No it has a side sling of material

What is the "side sling" like? A thin strip of stretchy material.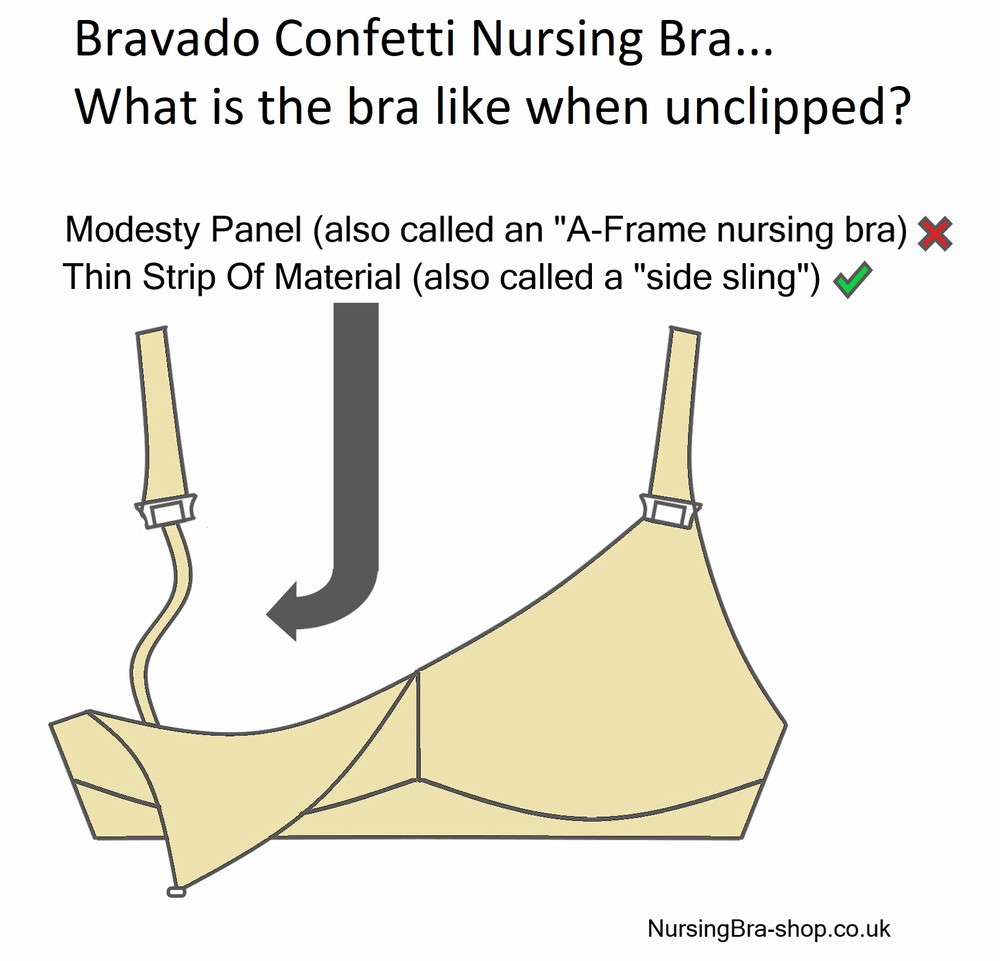 Is this bra padded?
No
Does it have a pre-formed or molded cups?
No
How smooth is the material on the OUTSIDE of the bra?
Quite smooth
How stretchy is the fabric on the cups?
This one has stretchy cups
Does the bra have removable foam inserts in the cups?
No
Would it be suitable as a T-shirt nursing bra?
Not really
Would it be suitable as a Sleep nursing bra?
Yes
Does this bra have an option to buy matching briefs?
No
How to verify the Nursing Bra Shop....
"I have never heard of the Nursing Bra Shop....how can I find out what the service is like?"
Simple - ask any online mums forums you are on if anyone has used us. We always
STRONGLY URGE
you to check on us in any Facebook breastfeeding groups or other maternity or mums groups such as Mumsnet etc. Maybe ask if anyone has ever used the Nursing Bra Shop? What was our service like?
Here are some places to ask questions about the Nursing Bra Shop:
- Facebook breastfeeding groups
- Mumsnet
- Online Bounty Groups
- Netmums
But please ask the question in any forums. 89% Of UK mothers have never heard of the Nursing Bra Shop. Asking forums is a good way of checking on us. Don't take our word for it....ask other mothers who may have used us!
MATERIAL THICKNESS OF CUPS:
We try to rate how thick the cups are of each bra, so you are not surprised by this when the bra turns up! We rate this out of 5, so 1/5 is thin cups, 5 out of 5 is thick. We would rate the thickness of the cups of the cups of this bra as 2 out of 5.

WIDTH OF BRA STRAPS
How wide are the straps of this nursing bra? We measured all of the sizes, and it remained consistent at 15mm. This width of 15mm remained the same the whole length of the bra strap. So, it does not get wider nearer the shoulder, but remains at 15mm the length of each strap. To see how this feels, have a measure of one of your existing bras that you have at home.