Are you searching for a really comfortable black nursing bra? Then we highly recommend the Bravado Original Full Cup nursing bra. We have sold this full cup version since 2007 and it has always been really popular with our customers.

So what makes it such a good nursing bra? Well, we think you will love how comfortable it is thanks to the cozy cotton and model fabric. We think you will also love how breathable the fabric is in this bra.

How about the construction of this nursing bra? It has a wide bottom band as well as a smooth racer-back which will give you a sportier look!

Not sure which size nursing bra to choose? Then this may be a perfect choice for you thanks to the flexible sizing system. So, rather than picking, for example, a 36F, you would pick either Small, Medium, Large or Extra Large. Each size covers a range of sizes. This makes it easier to pick the right size bra for you. It also means that as your size changes, the bra should still remain really comfortable. Please see the table below to see which is the right size for you.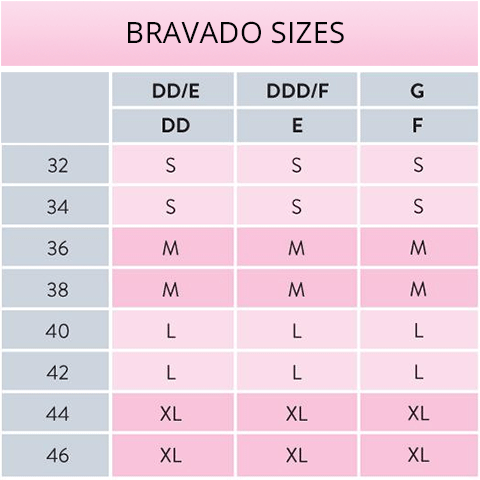 Breastfeeding advisors suggest you should, if possible, avoid underwires during your nursing months. So you may be please to know this bra is wirefree. It also has full drop away bra cups to allow full skin-to-skin contact for your baby.

So why might this be the perfect nursing bra for you? If you want a comfortable, black full cup nursing bra, then this is a really good choice. Our customers have loved it for over 10 years now.


We want to make sure you know exactly what the bra is like so you are not surprised when it arrives, so here are some quick questions and answers from us studying the bra… out of the packet….in depth.

Is this bra underwired? No

Does this bra have a "modesty panel" that covers the top of your breasts (i.e when the cups are open does it have material to help make it more discreet behind the cups? This is also called an "A-Frame nursing bra". No it has a side sling of material

What is the "side sling" like? A strip of material that widens towards the bottom.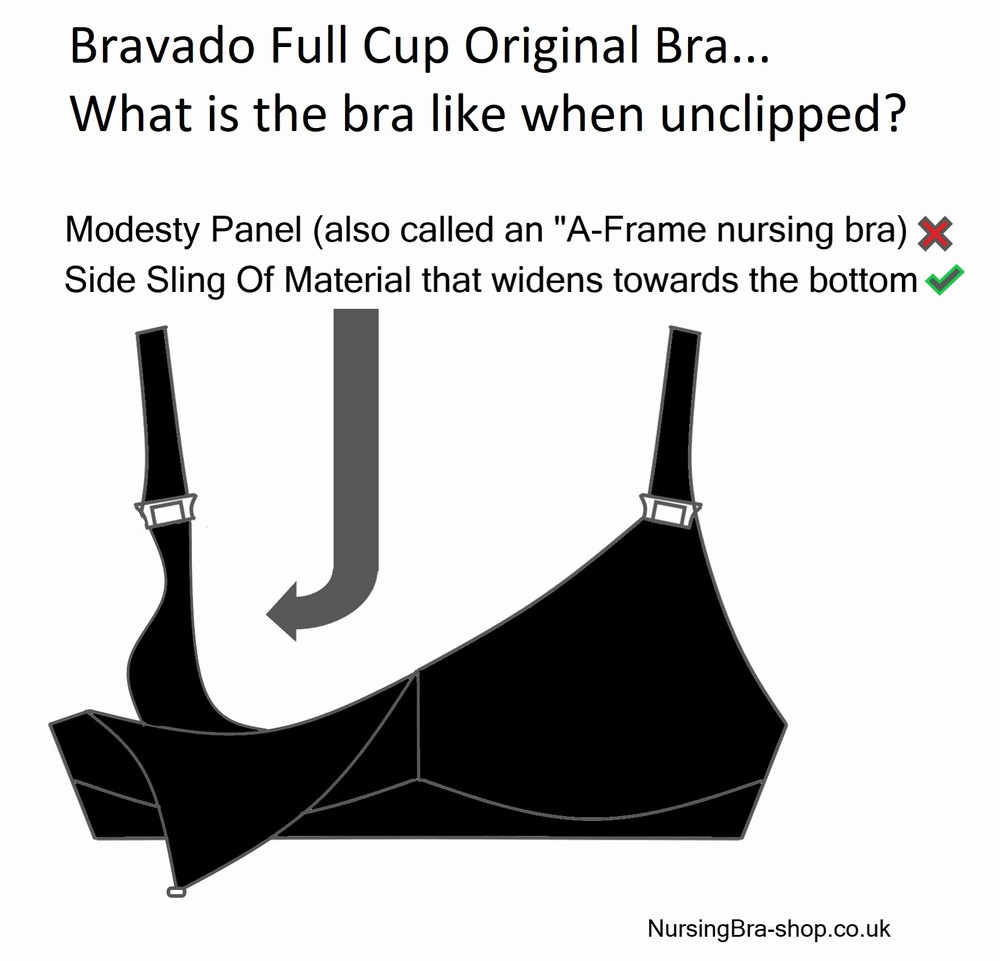 Is this bra padded?
No
Does it have a pre-formed or molded cups?
No
How smooth is the material on the OUTSIDE of the bra?
Quite smooth
How stretchy is the fabric on the cups?
This one has stretchy cups
Does the bra have removable foam inserts in the cups?
No
Would it be suitable as a T-shirt nursing bra?
A bit!
Would it be suitable as a Sleep nursing bra?
Yes
Does this bra have an option to buy matching briefs?
No
How to verify the Nursing Bra Shop....
"I have never heard of the Nursing Bra Shop....how can I find out what the service is like?"
Simple - ask any online mums forums you are on if anyone has used us. We always
STRONGLY URGE
you to check on us in any Facebook breastfeeding groups or other maternity or mums groups such as Mumsnet etc. Maybe ask if anyone has ever used the Nursing Bra Shop? What was our service like?
Here are some places to ask questions about the Nursing Bra Shop:
- Facebook breastfeeding groups
- Mumsnet
- Online Bounty Groups
- Netmums
But please ask the question in any forums. 89% Of UK mothers have never heard of the Nursing Bra Shop. Asking forums is a good way of checking on us. Don't take our word for it....ask other mothers who may have used us!
MATERIAL THICKNESS OF CUPS:
We try to rate how thick the cups are of each bra, so you are not surprised by this when the bra turns up! We rate this out of 5, so 1/5 is thin cups, 5 out of 5 is thick. We would rate the thickness of the cups of the cups of this bra as 3 out of 5. Medium thickness.

WIDTH OF BRA STRAPS
How wide are the straps of this nursing bra? We measured all of the sizes, and it remained consistent at 19mm. This width of 19mm remained the same the whole length of the bra strap. So, it does not get wider nearer the shoulder, but remains at 19mm the length of each strap. To see how this feels, have a measure of one of your existing bras that you have at home.
This is a "flexible sized" nursing bra…perfect for pregnancy and beyond…and highly recommended by us
This means you don't have to be exactly right when choosing your size. We tend to recommend "flexible sized" nursing bras for anyone who is pregnant through to when your baby is a few months old.
If you look in the "full description" you should see a chart with sizes on. Simply find your size within the chart and pick that to decide if you are Small, Medium, Large etc.?
Base it on the size you are now.
Click here for our full fitting guide and measuring guide
Here are some more detailed guidelines on how your body and bra size may change
In your 2nd Trimester?
Be aware that the band size around the 6th month is likely to be close to what you would be after delivery. But you need to leave room in the cups to grow. Unsure what size to pick? Have a look at our
"flexible sized"
nursing bras which cover several sizes which are much easier to fit. We have flexible sized nursing bras that should fit you from 30 inch to 46 inch backs, A-JJ Cups. If you happen to be a larger cup that JJ, please see our Royce nursing bras.
Click here for our flexible sized nursing bras.
In your 3rd Trimester?
Be aware that your band size will decrease after delivery, and should continue to decrease in the first few months of breastfeeding. You should also leave a little room in the cups. Again, at this stage we suggest choosing a
"flexible sized"
nursing bra that should remain comfortable as your size changes.
Right after you give birth:
Be aware your band size is likely to decrease in the first few months of breastfeeding. When your milk comes in, your breasts will feel much fuller as well are firmer. During each day that fullness will fluctuate between feeds. Again, during this time we tend to recommend our
"flexible sized"
nursing bras, as these should remain a comfortable fit as your body changes.
When baby is a few months old:
Your breast size typically peaks at around 3-4 months. Engorgement (where your breasts can become overly-full and a little painful) can be common. As you continue to breastfeed after the 6th month, your breast size will start to decrease and you should find your are rarely engorged. This is a good time to shop for a traditionally sized nursing bra (for example 36DD) as your size should have settled down by this point.
How much does delivery cost?
Delivery is free in the UK, and £1 anywhere else in the world.

How long does delivery take?
If you place your order before 4pm on a working day (Monday to Friday), in most cases your order will be despatched by Royal Mail 48 Hour Service, so you should get it within 1 to 2 working days! If you place your order on a Saturday, Sunday or Bank Holiday, we usually despatch the next working day, so again, you should get it the day after this.

I am based abroad – how long does delivery take?
In Europe, you should get your goods within five days, and outside Europe, you should get then within eight days.

For more info please click here.