Looking for a really comfortable nursing bra? Then we highly recommend the Bravado Original Full Cup Pink Leopard nursing bra. We have sold this full cup version since 2007 and it has always been very popular with our customers.

So what makes it such a good breastfeeding bra? Well, we think you will love how comfortable this bra is thanks to the very cozy cotton and model fabric. It is also very breathable helping to make it a cool bra to wear.

What about the construction of this bra? It features a wide bottom band as well as a smooth racer-back which will give you a sportier look!

Are you unsure of which size nursing bra to pick? Then this may be a super choice for you thanks to the flexible sizing system. So, rather than picking, for example, a 36E, you would pick either Small, Medium, Large or Extra Large. Each size covers a range of sizes. This makes it much easier to pick the right size bra for you. Also, this means that as your size changes, the bra should still remain very comfortable. Please see the table below to see which is the right size for you.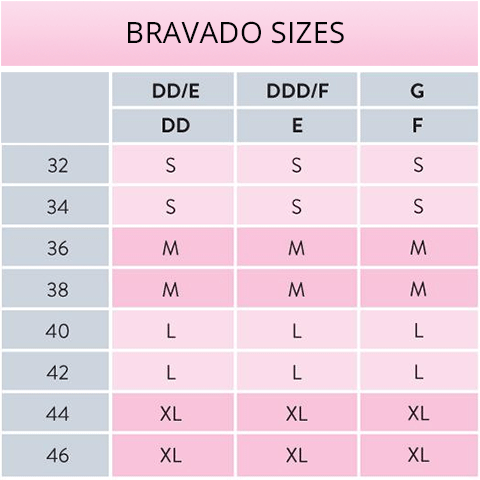 Breastfeeding advisors suggest you should, if possible, avoid underwires during your nursing months. So you may be please to know this bra is wirefree. It also features full drop away bra cups to allow full skin-to-skin contact for your baby.

So why might this be a great choice of nursing bra for you? If you want a comfortable, full cup nursing bra, then this is a really good choice. Our customers have loved it for over 13 years now.


We want to make sure you know exactly what the bra is like so you are not surprised when it arrives, so here are some quick questions and answers from us studying the bra… out of the packet….in depth.

Is this bra underwired? No

Does this bra have a "modesty panel" that covers the top of your breasts (i.e when the cups are open does it have material to help make it more discreet behind the cups? This is also called an "A-Frame nursing bra". No it has a side sling of material

What is the "side sling" like? A strip of material that widens towards the bottom.

Is this bra padded?
No
Does it have a pre-formed or molded cups?
No
How smooth is the material on the OUTSIDE of the bra?
Quite smooth
How stretchy is the fabric on the cups?
This one has stretchy cups
Does the bra have removable foam inserts in the cups?
No
Would it be suitable as a T-shirt nursing bra?
A bit!
Would it be suitable as a Sleep nursing bra?
Yes
Does this bra have an option to buy matching briefs?
No
How to verify the Nursing Bra Shop....
"I have never heard of the Nursing Bra Shop....how can I find out what the service is like?"
Simple - ask any online mums forums you are on if anyone has used us. We always
STRONGLY URGE
you to check on us in any Facebook breastfeeding groups or other maternity or mums groups such as Mumsnet etc. Maybe ask if anyone has ever used the Nursing Bra Shop? What was our service like?
Here are some places to ask questions about the Nursing Bra Shop:
- Facebook breastfeeding groups
- Mumsnet
- Online Bounty Groups
- Netmums
But please ask the question in any forums. 89% Of UK mothers have never heard of the Nursing Bra Shop. Asking forums is a good way of checking on us. Don't take our word for it....ask other mothers who may have used us!