We are happy to introduce the Bravado Original Pink Leopard Nursing bra. Designed for sizes 32-46 B-D, this Bravado Basic Nursing Bra is suitable for both breastfeeding and also in the months before you give birth. This means you get more value for money and longer wear from your feeding bra.

Sizing for this nursing bra works slightly different to most bras – please see the table below to find the correct bra for you. This Bravado Original bra is suitable for smaller cup sizes, but please see our other Bravado bras if happen to be a larger cup size – depending on your size you may need the Original Basic Bra, or the Original Full Cup bra.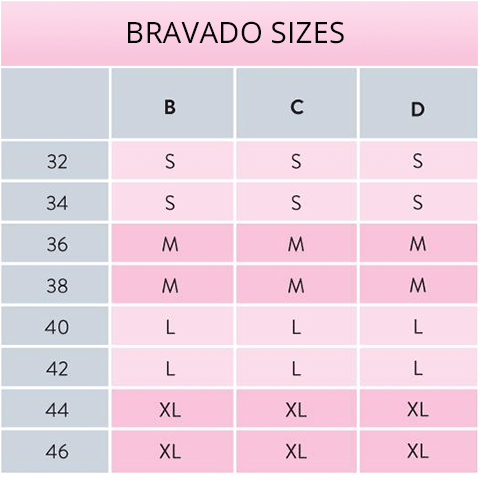 This nursing bra is Bravado's most famous bra. It is also available in white, black or dove heather.

Are you unsure of your sizing? Then choose one of the Bravado bras. In the months before and after you give birth your size may change as your body changes and your milk comes in or out. This means this bra a great choice as it covers a range of sizes - it will still be comfortable and supportive as your size changes. It has also been specifically designed to reduce the risk you may have of getting mastitis. The bra stretches and contracts to fit your breasts without becoming too tight if you are engorged.

What about the design of this bra? Well, the Original Basic bra has a distinct cross over cup design. It also features a sports-style back. This will give you great upper-middle back support and will also hold the shoulder straps in place – even whilst you are breastfeeding!

How about the cups? Well they drop fully away from your breast which means your baby will have full skin-to-skin access to your breast, which is recommended by breastfeeding advisors. You also have even more flexibility with this bra as you can adjust the shoulder straps for an even better fit. When it comes to feeding you will love how easy it is to open and close the bra with just one hand, which saves fumbling around whilst you are holding your baby.

How supportive is this bra? You will be well supported by an under elastic which is quite wide and this is designed to stop the bra from riding up. The fabric is made from 49% cotton, 32% modal and 19% spandex/elastane and this mix allows the cups to mould to your breasts and support your changing shape throughout the day. It is also perfect as a sleep nursing bra, which means you can have a comfy nursing bra on through the night!!

So why might you choose the Bravado Basic Original nursing bra? It will offer you a lovely fit, it will help prevent mastitis and you can also wear it through the night! Furthermore, it is a really popular bra with our customers and is very supportive. We recommend this bra highly!

We want to make sure you know exactly what the bra is like so you are not surprised when it arrives, so here are some quick questions and answers from us studying the bra… out of the packet….in depth.

Is this bra underwired? No

Does this bra have a "modesty panel" that covers the top of your breasts (i.e when the cups are open does it have material to help make it more discreet behind the cups? This is also called an "A-Frame nursing bra". No it has a side sling of material

What is the "side sling" like? A straight strip of stretchy material

Is this bra padded?
No
Does it have a pre-formed or molded cups?
No
How smooth is the material on the OUTSIDE of the bra?
Quite smooth
How stretchy is the fabric on the cups?
This one has stretchy cups
Does the bra have removable foam inserts in the cups?
No
Would it be suitable as a T-shirt nursing bra?
A bit!
Would it be suitable as a Sleep nursing bra?
Yes
Does this bra have an option to buy matching briefs?
No
How to verify the Nursing Bra Shop....
"I have never heard of the Nursing Bra Shop....how can I find out what the service is like?"
Simple - ask any online mums forums you are on if anyone has used us. We always
STRONGLY URGE
you to check on us in any Facebook breastfeeding groups or other maternity or mums groups such as Mumsnet etc. Maybe ask if anyone has ever used the Nursing Bra Shop? What was our service like?
Here are some places to ask questions about the Nursing Bra Shop:
- Facebook breastfeeding groups
- Mumsnet
- Online Bounty Groups
- Netmums
But please ask the question in any forums. 89% Of UK mothers have never heard of the Nursing Bra Shop. Asking forums is a good way of checking on us. Don't take our word for it....ask other mothers who may have used us!