Would you prefer a luxuriously soft and wirefree bamboo viscose breastfeeding bra? We think you may like the new Cake Lingerie Tutti Frutti nursing bra in a rust colour. It is really luxurious, yet getting the right size is also really easy.

What makes this such a luxurious nursing bra? It has delicate lace detailing and a nice plunge neckline.

What about the cups? This bra has memory foam moulded cups. Breastfeeding advisors often suggest that you should, where possible, choose bras that do not have underwires, so you might be pleased to know this bra is wirefree. There is also a nice stretch to the cups to allow for growth.

This nursing bra has a racer back design which should provide you with additional comfort and support. It is suitable from day to night, during pregnancy and beyond through your nursing months.

Also suitable as a T-shirt nursing bra, it offers easy-feed drop down cups with nursing clips. This bra has a nice wide supportive underband too. It is available in two cup size options: B-DD or E-FF.

So what makes this such a nice nursing bra? Well, We think the flexible sizing makes this much easier to pick the right size. You should find it very comfortable, and yet it should be really supportive too.

We want to make sure you know exactly what the bra is like so you are not surprised when it arrives, so here are some quick questions and answers from us studying the bra… out of the packet….in depth.

Is this bra underwired? No.

Does this bra have a "modesty panel" that covers the top of your breasts (i.e when the cups are open does it have material to help make it more discreet behind the cups? This is also called an "A-Frame nursing bra". No…see the image below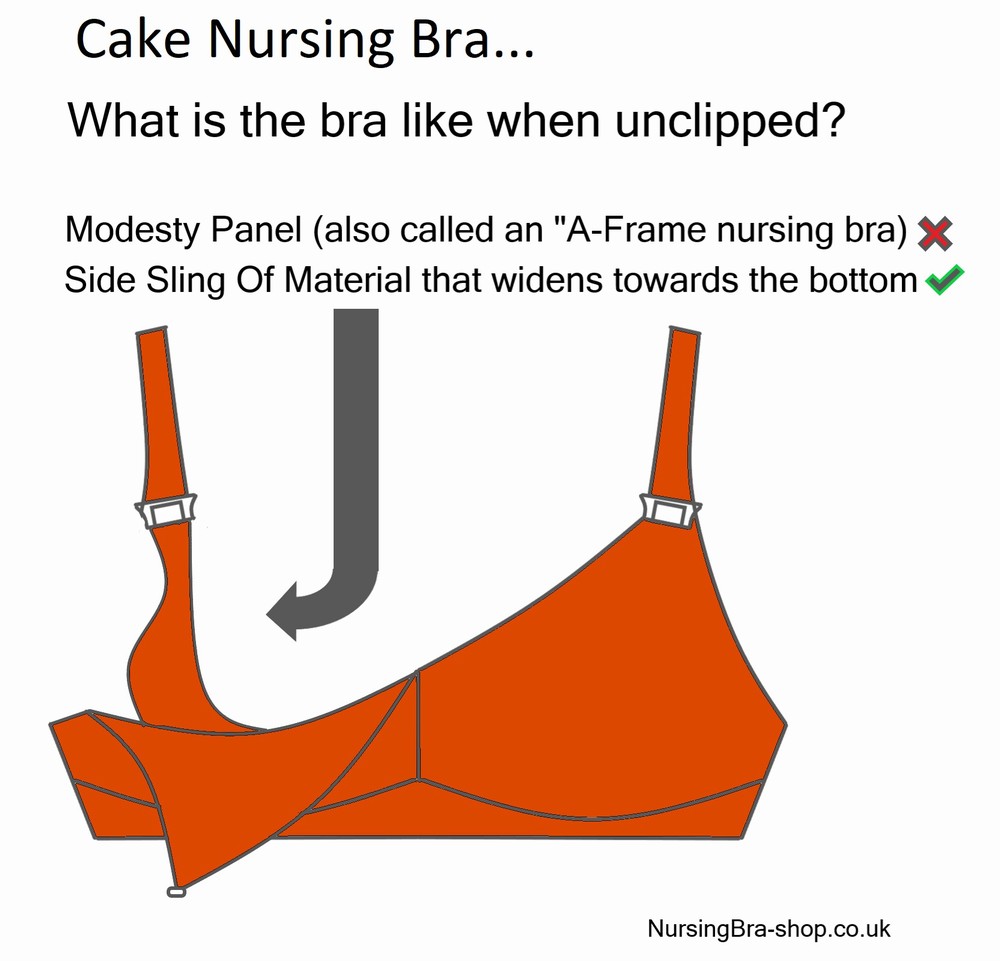 Is this bra padded?
It seems to have a small-to-medium amount of padding
Does it have a pre-formed or moulded cups?
No
How smooth is the material on the OUTSIDE of the bra?
Not very smooth and it has some lace towards the top of the cups
How stretchy is the fabric on the cups?
This one has quite stretchy cups
Does the bra have removable foam inserts in the cups?
No
Would it be suitable as a T-shirt nursing bra?
We don't think so
Would it be suitable as a Sleep nursing bra?
We don't' think so
Does this bra have an option to buy matching briefs?
No
How to verify the Nursing Bra Shop....
"I have never heard of the Nursing Bra Shop....how can I find out what the service is like?"
Simple - ask any online mums forums you are on if anyone has used us. We always
STRONGLY URGE
you to check on us in any Facebook breastfeeding groups or other maternity or mums groups such as Mumsnet etc. Maybe ask if anyone has ever used the Nursing Bra Shop? What was our service like?
Here are some places to ask questions about the Nursing Bra Shop:
Facebook breastfeeding groups
Mumsnet
Online Bounty Groups
Netmums
But please ask the question in any forums. 89% Of UK mothers have never heard of the Nursing Bra Shop. Asking forums is a good way of checking on us. Don't take our word for it....ask other mothers who may have used us!
How much does delivery cost?
Delivery is free in the UK, and £1 anywhere else in the world.

How long does delivery take?
If you place your order before 4pm on a working day (Monday to Friday), in most cases your order will be despatched by Royal Mail 48 Hour Service, so you should get it within 1 to 2 working days! If you place your order on a Saturday, Sunday or Bank Holiday, we usually despatch the next working day, so again, you should get it the day after this.

I am based abroad – how long does delivery take?
In Europe, you should get your goods within five days, and outside Europe, you should get then within eight days.

For more info please click here.