Are you looking for a bra that is good for the environment as well as for you and your baby? This black Organic Cotton Nursing Bra from Carriwell will be wonderfully soft against your skin, but also gives you the opportunity to choose something that is environmentally friendly.

How comfortable is this bra? This Organic Cotton Nursing bra has no seams and is incredibly soft, so it should not rub against or irritate your sensitive skin. It is also breathable, and the stretch fabric should mould to fit your changing shape, expanding by up to two sizes. This bra is even comfortable enough to be worn at night!

How practical is this bra? As well as offering comfort, the seam-free design of this bra means that it can be worn under tight clothes and still gives a smooth silhouette. It will lift and support you gently, although it may not be supportive enough for bigger-breasted mums. The one handed maternity clips allow you easy access, so that you can hold your baby comfortably in the other hand when you feed. The drop down cups expose the whole breast, offering you vital skin-to-skin contact, which many healthcare professionals recommend. The wide chest band offers extra support without an underwire. Experts believe that wearing a bra with underwires can lead to the development of mastitis.

This bra is available in four sizes (Small, Medium, Large, Extra Large), which cover the traditional sizes between 32A and 44DD (please use the table below to find your size).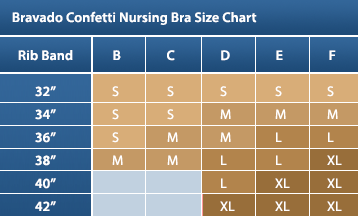 This bra also comes with a free hook and eye extender, to make it even more flexible in the sizing. We would recommend choosing a larger size than usual, especially if you are used to the non-organic version by the same brand, as this bra is small on sizing. We suggest hand washing your bras to keep them in the best condition, but this bra is suitable for machine washing at 40 degrees and tumble drying.

So what does this bra look like? Well, it has ruched cups and lacy edging, adding a little interest to an otherwise plain bra. It is quite low cut at the front, so you can wear it under lower cut tops, but it still fits the Carriwell Washable Breast Pads perfectly. Please see below for details of how to buy these.

So why would we recommend this black Organic Cotton Nursing bra from Carriwell? It is designed to fit perfectly with the Carriwell Washable Breast Pads, and the organic cotton will be soft against your sensitive skin. The ruched cups and lace detailing also make this practical bra feel feminine.

We want to make sure you know exactly what the bra is like so you are not surprised when it arrives, so here are some quick questions and answers from us studying the bra… out of the packet….in depth.

Is this bra underwired? No

Does this bra have a "modesty panel" that covers the top of your breasts (i.e when the cups are open does it have material to help make it more discreet behind the cups? This is also called an "A-Frame nursing bra". No it has a side sling of material

What is the "side sling" like? A straight strip of stretchy material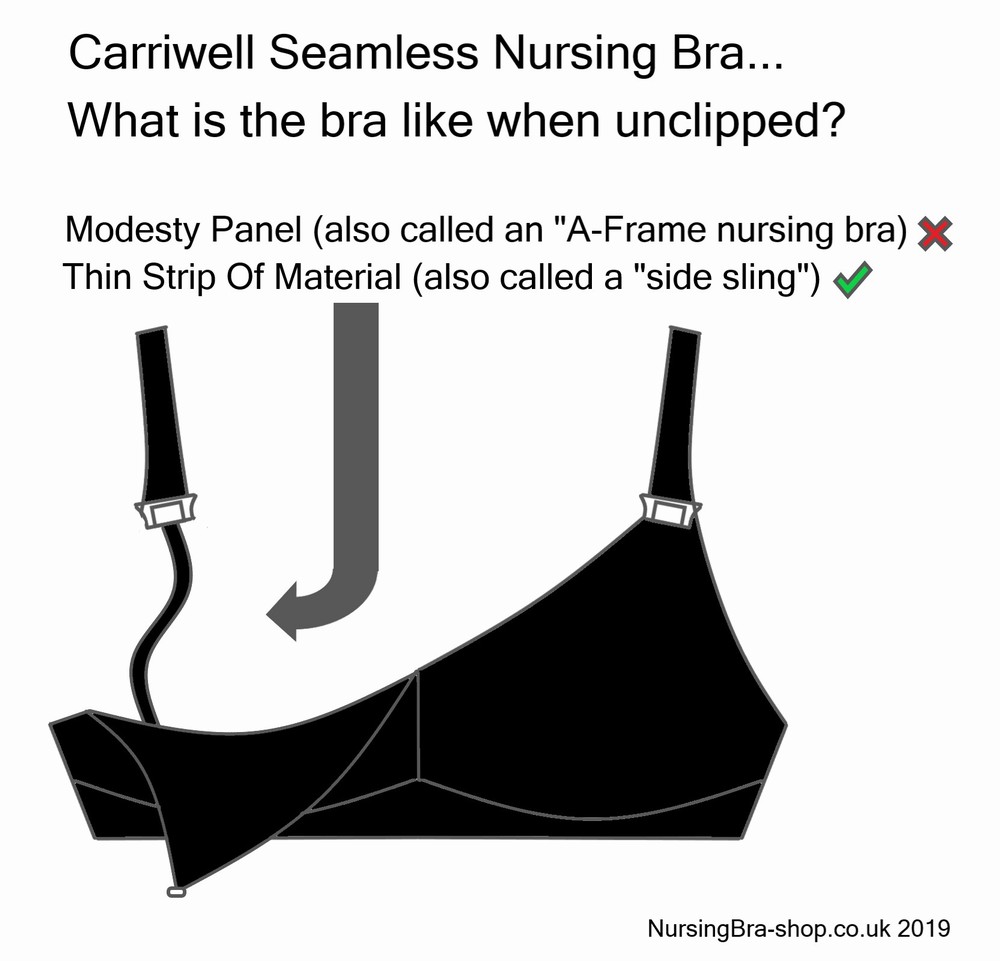 Is this bra padded?
No
Does it have a pre-formed or molded cups?
No
How smooth is the material on the OUTSIDE of the bra?
It is not "textured" but is not "silky smooth" either!
How stretchy is the fabric on the cups?
This one has stretchy cups
Does the bra have removable foam inserts in the cups?
No
Would it be suitable as a T-shirt nursing bra?
A bit!
Would it be suitable as a Sleep nursing bra?
We think so
Does this bra have an option to buy matching briefs?
No
How to verify the Nursing Bra Shop....
"I have never heard of the Nursing Bra Shop....how can I find out what the service is like?"
Simple - ask any online mums forums you are on if anyone has used us. We always
STRONGLY URGE
you to check on us in any Facebook breastfeeding groups or other maternity or mums groups such as Mumsnet etc. Maybe ask if anyone has ever used the Nursing Bra Shop? What was our service like?
Here are some places to ask questions about the Nursing Bra Shop:
- Facebook breastfeeding groups
- Mumsnet
- Online Bounty Groups
- Netmums
But please ask the question in any forums. 89% Of UK mothers have never heard of the Nursing Bra Shop. Asking forums is a good way of checking on us. Don't take our word for it....ask other mothers who may have used us!
MATERIAL THICKNESS OF CUPS:
We try to rate how thick the cups are of each bra, so you are not surprised by this when the bra turns up! We rate this out of 5, so 1/5 is thin cups, 5 out of 5 is thick. We would rate the thickness of the cups of the cups of this bra as 2 out of 5.

WIDTH OF BRA STRAPS
How wide are the straps of this nursing bra? We measured all of the sizes, and it remained consistent at 16mm. This width of 16mm remained the same the whole length of the bra strap. So, it does not get wider nearer the shoulder, but remains at 16mm the length of each strap. To see how this feels, have a measure of one of your existing bras that you have at home.
This is a "flexible sized" nursing bra…perfect for pregnancy and beyond…and highly recommended by us
This means you don't have to be exactly right when choosing your size. We tend to recommend "flexible sized" nursing bras for anyone who is pregnant through to when your baby is a few months old.
If you look in the "full description" you should see a chart with sizes on. Simply find your size within the chart and pick that to decide if you are Small, Medium, Large etc.?
How much does delivery cost?
Delivery is free in the UK, and £1 anywhere else in the world.

How long does delivery take?
If you place your order before 4pm on a working day (Monday to Friday), in most cases your order will be despatched by Royal Mail 48 Hour Service, so you should get it within 1 to 2 working days! If you place your order on a Saturday, Sunday or Bank Holiday, we usually despatch the next working day, so again, you should get it the day after this.

I am based abroad – how long does delivery take?
In Europe, you should get your goods within five days, and outside Europe, you should get then within eight days.

For more info please click here.