Are you looking for a bra that is good for the environment as well as for you and your baby? This black Organic Cotton Nursing Bra from Carriwell will be wonderfully soft against your skin, but also gives you the opportunity to choose something that is environmentally friendly.

How comfortable is this bra? This Organic Cotton Nursing bra has no seams and is incredibly soft, so it should not rub against or irritate your sensitive skin. It is also breathable, and the stretch fabric should mould to fit your changing shape, expanding by up to two sizes. This bra is even comfortable enough to be worn at night!

How practical is this bra? As well as offering comfort, the seam-free design of this bra means that it can be worn under tight clothes and still gives a smooth silhouette. It will lift and support you gently, although it may not be supportive enough for bigger-breasted mums. The one handed maternity clips allow you easy access, so that you can hold your baby comfortably in the other hand when you feed. The drop down cups expose the whole breast, offering you vital skin-to-skin contact, which many healthcare professionals recommend. The wide chest band offers extra support without an underwire. Experts believe that wearing a bra with underwires can lead to the development of mastitis.

This bra is available in four sizes (Small, Medium, Large, Extra Large), which cover the traditional sizes between 32A and 44DD (please use the table below to find your size).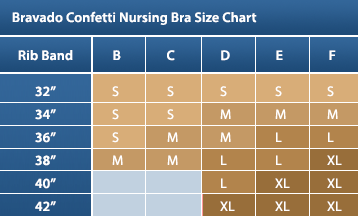 This bra also comes with a free hook and eye extender, to make it even more flexible in the sizing. We would recommend choosing a larger size than usual, especially if you are used to the non-organic version by the same brand, as this bra is small on sizing. We suggest hand washing your bras to keep them in the best condition, but this bra is suitable for machine washing at 40 degrees and tumble drying.

So what does this bra look like? Well, it has ruched cups and lacy edging, adding a little interest to an otherwise plain bra. It is quite low cut at the front, so you can wear it under lower cut tops, but it still fits the Carriwell Washable Breast Pads perfectly. Please see below for details of how to buy these.

So why would we recommend this black Organic Cotton Nursing bra from Carriwell? It is designed to fit perfectly with the Carriwell Washable Breast Pads, and the organic cotton will be soft against your sensitive skin. The ruched cups and lace detailing also make this practical bra feel feminine.