How about an underwired nursing bra that is recommended by Midwife and lactation consultants? The amazing Carriwell Padded GelWire® nursing bra may be the perfect bra for you!

It is perfect for fuller breasts and curves and you should also find it really supportive too!

Are you struggling to choose a size for your nursing bra? Then this bra could be perfect for you. Each size of this bra covers several sizes. So rather than picking, for example, 44G, you only need to choose either Medium, Large, Extra-Large or Extra-Extra Large (this bra does not exist in a small). How do you know which size to pick? See the table below for guidance!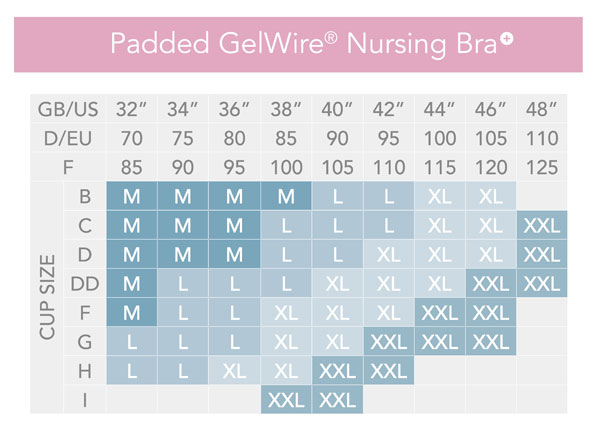 As each single size (for example Large) covers several bra sizes, it means your bra should remain really comfortable as your milk comes in and out and your size changes.

This bra has light, removable moulded pads which should give you really good support and a lovely shape.

If you would prefer you can also choose this bra in white – see below for this option.

So why do we think this bra is so comfortable? It is seamless – many of our customers really love seamless nursing bras.

How about the cups? The cup design maximizes skin-to-skin contact with your baby when you come to feed.

So why would you choose the Black Carriwell Padded Gelwire Support nursing bra? We think you should find it incredibly comfortable, really supportive and it should also give you a lovely shape too!

We want to make sure you know exactly what the bra is like so you are not surprised when it arrives, so here are some quick questions and answers from us studying the bra… out of the packet….in depth.

Is this bra underwired? No

Does this bra have a "modesty panel" that covers the top of your breasts (i.e when the cups are open does it have material to help make it more discreet behind the cups? This is also called an "A-Frame nursing bra". No it has a side sling of material

What is the "side sling" like? A straight strip of stretchy material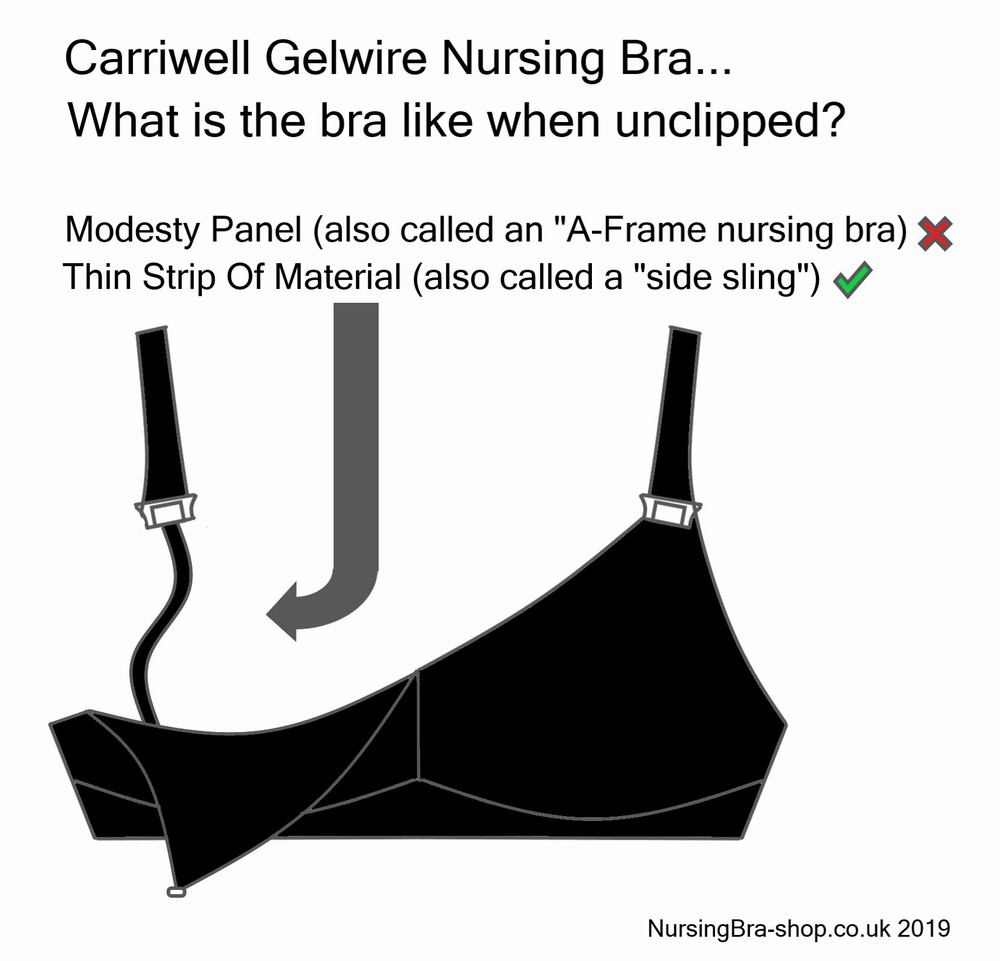 Is this bra padded?
Yes
Does it have a pre-formed or molded cups?
No
How smooth is the material on the OUTSIDE of the bra?
It is not "textured" but is not "silky smooth" either!
How stretchy is the fabric on the cups?
This one has stretchy cups
Does the bra have removable foam inserts in the cups?
Yes
Would it be suitable as a T-shirt nursing bra?
Not really
Would it be suitable as a Sleep nursing bra?
We think so
Does this bra have an option to buy matching briefs?
No
MATERIAL THICKNESS OF CUPS:
We try to rate how thick the cups are of each bra, so you are not surprised by this when the bra turns up! We rate this out of 5, so 1/5 is thin cups, 5 out of 5 is thick. We would rate the thickness of the cups of the cups of this bra as 4 out of 5. One of our thickest cup nursing bras.

WIDTH OF BRA STRAPS
How wide are the straps of this nursing bra? We measured all of the sizes, and it remained consistent at 21mm. This width of 21mm remained the same the whole length of the bra strap. So, it does not get wider nearer the shoulder, but remains at 21mm the length of each strap. To see how this feels, have a measure of one of your existing bras that you have at home.