Are you searching for a supportive yet comfortable nursing bra? How about the Freya Chi breastfeeding bra? It is easy to get the right size thanks to the flexible sizing of this nursing bra.

So how does the sizing work? Well, rather than picking, for example, 36E you might pick a Medium instead. Each size (Extra Small, Small, Medium, Large or Extra-Large) covers several different sizes. This means that the bra should remain a nice fit, even as your size changes (as it often will during your nursing months!) This bra goes from a 28B to a 38HH.

Not sure which size to pick? Please see the table below to see which size is good for you.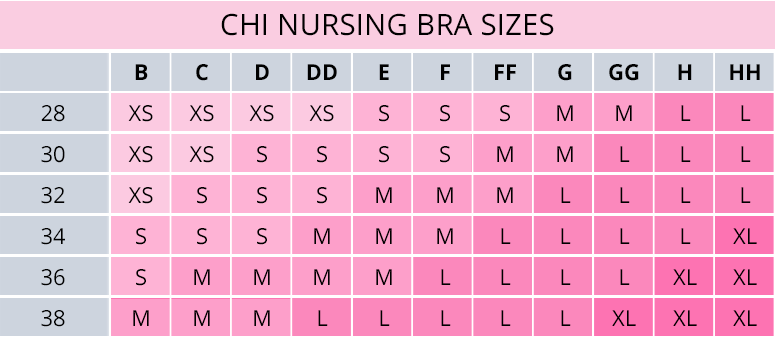 It is recommended, that, if possible, you avoid underwires during your nursing months. So you may be pleased to know that this bra is wirefree. This bra is suitable for both pre and post birth.

How about the clips of this nursing bra? Well, they are totally hidden behind the straps. They are also easy to open with just one hand.

The Chi nursing bra also has an internal A-Frame which will give you additional bust support. It is not padded.

So, why choose the Freya Chi nursing bra? We think you will find it really comfortable and it is easy to get the right size. A lovely choice.

We want to make sure you know exactly what the bra is like so you are not surprised when it arrives, so here are some quick questions and answers from us studying the bra, out of the packet, in depth.

Is this bra underwired? No

Does this bra have a "modesty panel" that covers the top of your breasts (i.e when the cups are open does it have material to help make it more discreet behind the cups? This is also called an "A-Frame nursing bra". No

What is the "side sling" like? A piece of material which we think is quite stretchy and goes under the breast

Is this bra padded? No

Does it have a pre-formed or molded cups? No

How smooth is the material on the OUTSIDE of the bra? We think it is nice and smooth, but not "silky"

How stretchy is the fabric on the cups? Very.

Does the bra have removable foam inserts in the cups? No

Would it be suitable as a T-shirt nursing bra? Not really

Would it be suitable as a Sleep nursing bra? We think so

Does this bra have an option to buy matching briefs? No


MATERIAL THICKNESS OF CUPS:
We try to rate how thick the cups are of each bra, so you are not surprised by this when the bra turns up! We rate this out of 5, so 1/5 is thin cups, 5 out of 5 is thick. We would rate the thickness of the cups of the cups of this bra as 2 out of 5. Cups are not that thick

WIDTH OF BRA STRAPS
How wide are the straps of this nursing bra? The straps of this nursing bra narrow as you move away form the cups, so it is difficult to get an accurate measurement of this! Sorry!!