Hotmilk have a reputation for creating beautiful bras, so why not treat yourself to this Skin-Coloured Eclipse bra? Hotmilk have designed this Skin Eclipse bra with an external side sling that runs from the shoulder straps to under the bust. This unusual design helps to minimise a larger bust, as well as giving greater support and shape. And there is even more good news if you're a mum with a fuller bust; this nursing bra is designed to support up to an H cup!

So what does it look like? This bra has delicate floral lace along the top of the cups and the supportive band around your chest, with a beautiful satin bow and diamante charm between the cups. With such luxurious detailing, this bra will not be completely smooth under tighter tops.

As pretty as this bra is, we know that it also needs to be practical. This bra has one handed nursing clips, allowing you to hold your hungry baby in one hand and undo your bra with the other. And as it's suitable to be worn from three to four months into your pregnancy, this bra is a great investment! The six hook and eye fastenings of the back give you lots of room to adjust it to fit you. Nursing professionals suggest choosing a nursing and maternity bra without wires, as it is thought that wires can contribute to the development of mastitis. This nursing bra is wire free, a great choice if you're looking for something that won't compromise on support.

The cups of this bra are full, offering great coverage as well as brilliant shape and support. The band under the cups is supportive, and the drop-down cups have an A-Frame design. This design offers greater support than side sling designs, especially at the top of the cup, as it covers more of the breast and gives an almost full cup, even when feeding. However, it is important to get the right size, as this A-Frame can be slightly constrictive for some fuller busted mums.

To protect your sensitive skin, the full cups of this bra are lined in 100% cotton, and all of the seams are concealed to stop them rubbing against you.

If you would like a matching set in this beautiful design, please follow the links below to see the matching Eclipse bikini briefs for this style. And don't forget, that this is based on the best-selling Eclipse, available in black. You can follow the links below to see this style too.

So why do we like this bra? Comfortable, practical and supportive, even in bigger sizes, this bra is great for wearing whilst you are pregnant and after your baby is born. But you don't have to compromise on style; the beautiful lace design isn't too obvious under your clothes, and we think this is one of our nicest designs in a skin colour.

We want to make sure you know exactly what the bra is like so you are not surprised when it arrives, so here are some quick questions and answers from us studying the bra… out of the packet….in depth.

Is this bra underwired? No

Does this bra have a "modesty panel" (i.e when the cups are open does it have material to help make it more discreet behind the cups? This is also called an "A-Frame nursing bra". Yes

What is the "modesty panel" like? Same colour as the bra.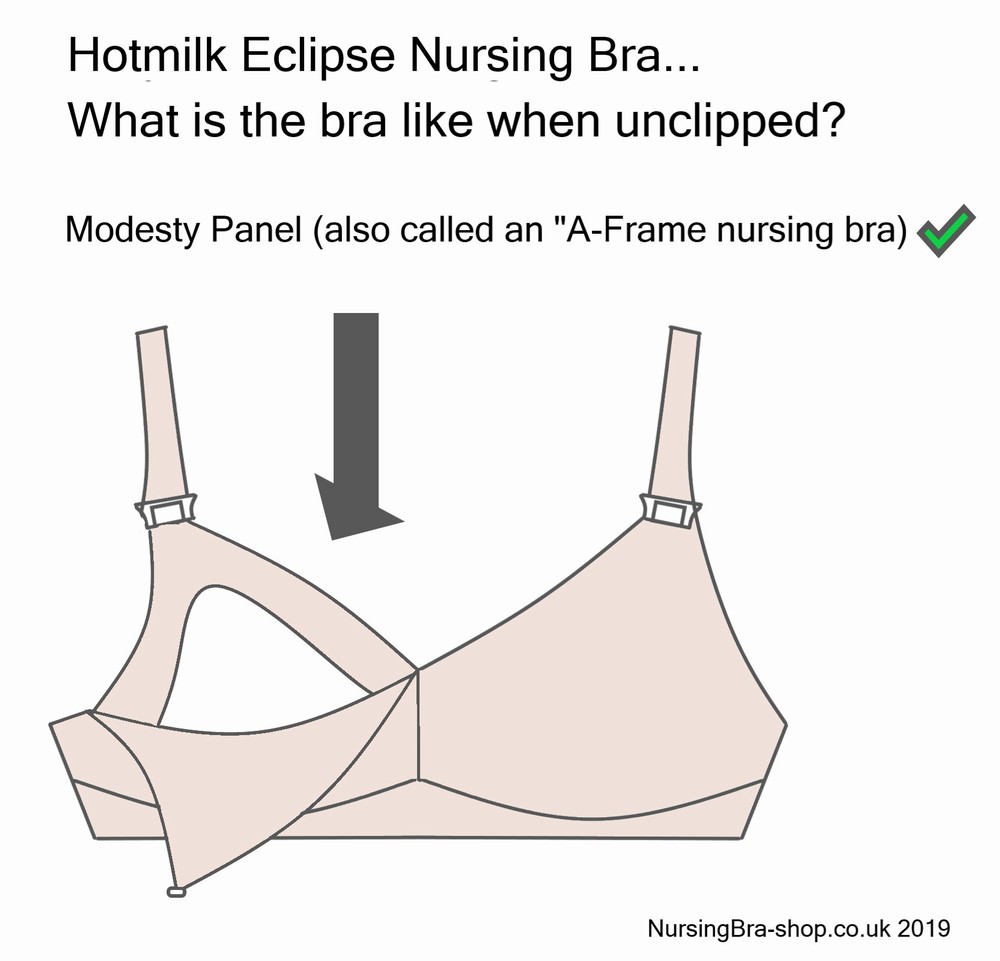 Is this bra padded?
No
Does it have a pre-formed cups?
No
How stretchy is the fabric on the cups?
It has a bit of a stretch to it, but not much
Does the bra have removable foam inserts in the cups?
No
How smooth is the material on the OUTSIDE of the bra?
It is lacy, so not very smooth
Would it be suitable as a T-shirt nursing bra?
No
Would it be suitable as a Sleep nursing bra?
Not really
Does this bra have an option to buy matching briefs?
Yes, see "Other Customers Liked…"
MATERIAL THICKNESS OF CUPS:
We try to rate how thick the cups are of each bra, so you are not surprised by this when the bra turns up! We rate this out of 5, so 1/5 is thin cups, 5 out of 5 is thick. We would rate the thickness of the cups of the cups of this bra as 2 out of 5.
How much does delivery cost?
Delivery is free in the UK, and £1 anywhere else in the world.

How long does delivery take?
If you place your order before 4pm on a working day (Monday to Friday), in most cases your order will be despatched by Royal Mail 48 Hour Service, so you should get it within 1 to 2 working days! If you place your order on a Saturday, Sunday or Bank Holiday, we usually despatch the next working day, so again, you should get it the day after this.

I am based abroad – how long does delivery take?
In Europe, you should get your goods within five days, and outside Europe, you should get then within eight days.

For more info please click here.