How about a soft t-shirt nursing bra? We think you may love the Royce Maisie Coral breastfeeding bra. It has moulded foam cups and we think it is really pretty and has a lovely soft material construction. It is available in sizes 32-40 C-G Cups.

So what makes it so comfortable? It has a lovely smooth cotton lining. Yet it is also pretty too….thanks in part to the satin trim towards the top of the cups. It also has a nice pretty bow in between the cups.

Breastfeeding advisors tend to advise that, if possible, you avoid underwires during your nursing months. So you may be pleased to know that this nursing bra is wirefree.

Ideal as a T-Shirt nursing bra, it should give you a smooth silhouette. The cups are moulded with foam. It also features adjustable straps and hook back fastenings too.

So why might we recommend the Royce Coral Maisie Nursing Bra? We think you should find the material really comfortable next to your skin. It also looks really pretty too.

We want to make sure you know exactly what the bra is like so you are not surprised when it arrives, so here are some quick questions and answers from us studying the bra, out of the packet, in depth.

Is this bra underwired? No

Does this bra have a "modesty panel" that covers the top of your breasts (i.e when the cups are open does it have material to help make it more discreet behind the cups? This is also called an "A-Frame nursing bra". No

What is the "side sling" like? A straight strip of stretchy material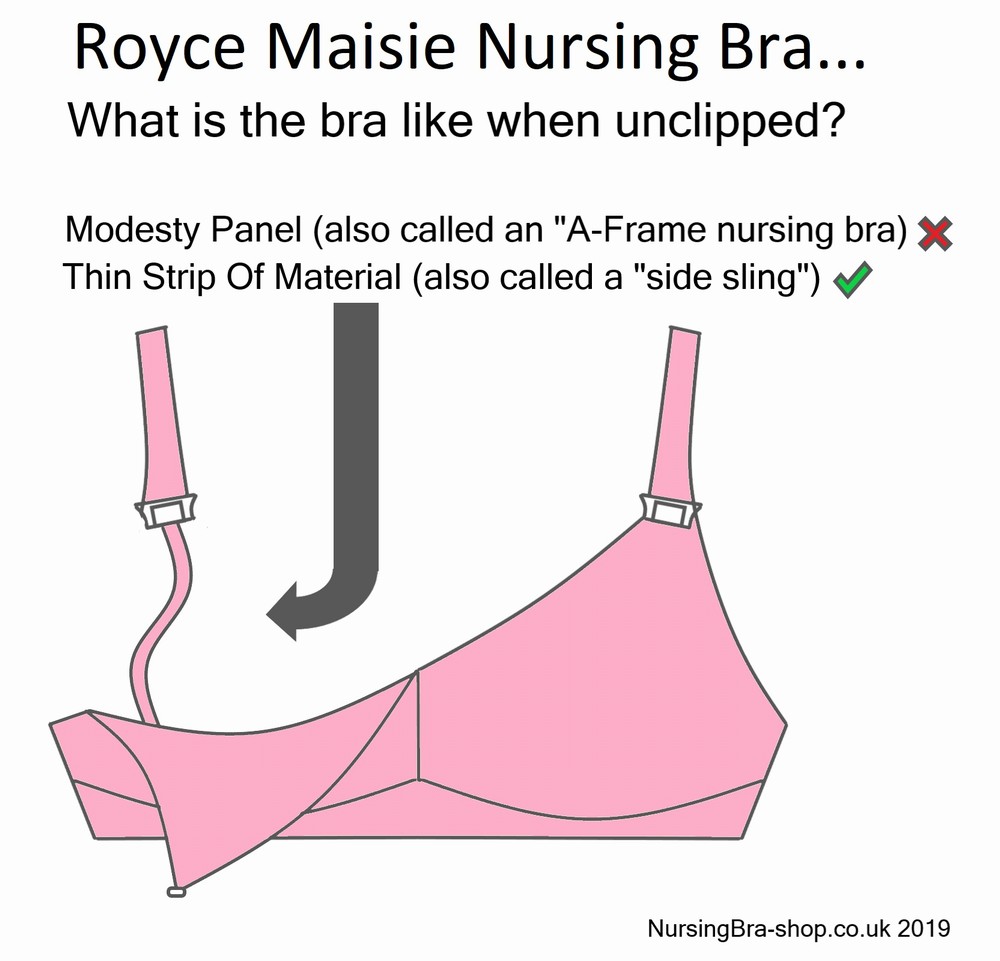 Is this bra padded?
Yes
Does it have a pre-formed or moulded cups?
Yes
How smooth is the material on the OUTSIDE of the bra?
Nice and smooth…we think!
How stretchy is the fabric on the cups?
Not very
Does the bra have removable foam inserts in the cups?
No
Would it be suitable as a T-shirt nursing bra?
Yes!
Would it be suitable as a Sleep nursing bra?
Not really
Does this bra have an option to buy matching briefs?
No
How to verify the Nursing Bra Shop....
"I have never heard of the Nursing Bra Shop....how can I find out what the service is like?"
Simple - ask any online mums forums you are on if anyone has used us. We always
STRONGLY URGE
you to check on us in any Facebook breastfeeding groups or other maternity or mums groups such as Mumsnet etc. Maybe ask if anyone has ever used the Nursing Bra Shop? What was our service like?
Here are some places to ask questions about the Nursing Bra Shop:
- Facebook breastfeeding groups
- Mumsnet
- Online Bounty Groups
- Netmums