Would you prefer an ultra supportive and stylish cream nursing bra? If so, we recommend the Royce Ava Nursing Bra, which is cream with black spots.

So, why is this bra so supportive? Well, it is crafted from a strong, stretch fabric and it also has side slings to further boost support. It should give you a nice shape to the bust too.

We think you should also find it really comfortable too thanks to the cotton lining in this bra. It has a wide form-fitting underband as well as easy drop clips and soft cups.

It is widely recommended that you should, if possible, avoid underwires during your nursing months. So you may be pleased to know that this bra is wirefree.

Royce have also made this bra very pretty with a spot print and a lovely lace trim. It is also available in black with cream spots...see below for this option.

So why do we think you will find this bra such a good choice? Well, it is very supportive, really pretty and comfortable too.

We want to make sure you know exactly what the bra is like so you are not surprised when it arrives, so here are some quick questions and answers from us studying the bra… out of the packet….in depth.

Is this bra underwired? No

Does this bra have a "modesty panel" that covers the top of your breasts (i.e when the cups are open does it have material to help make it more discreet behind the cups? This is also called an "A-Frame nursing bra". No

What is the "side sling" like? A straight strip of stretchy material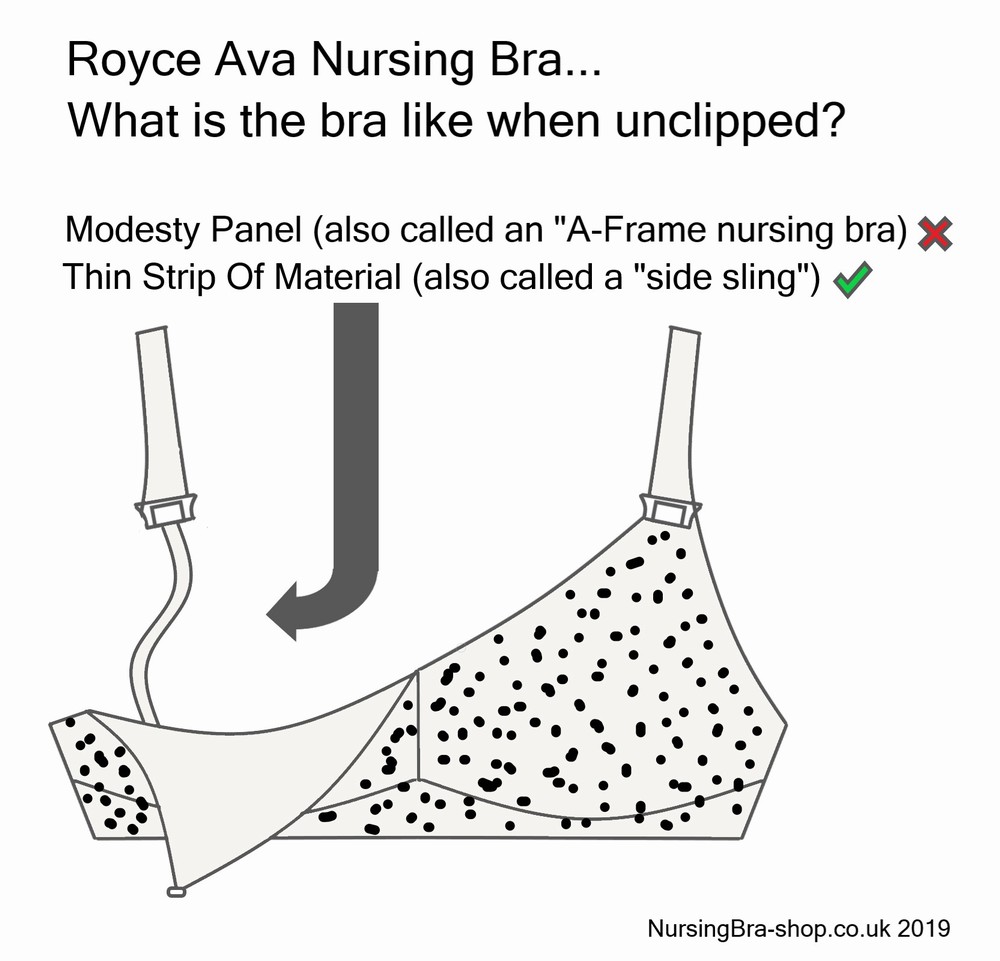 Is this bra padded?
No
Does it have a pre-formed or molded cups?
No
How smooth is the material on the OUTSIDE of the bra?
It is not "textured" but is not "silky smooth" either! However, there is also lace at the top of the cups
How stretchy is the fabric on the cups?
Not very stretchy
Does the bra have removable foam inserts in the cups?
No
Would it be suitable as a T-shirt nursing bra?
No
Would it be suitable as a Sleep nursing bra?
No
Does this bra have an option to buy matching briefs?
No
MATERIAL THICKNESS OF CUPS:
We try to rate how thick the cups are of each bra, so you are not surprised by this when the bra turns up! We rate this out of 5, so 1/5 is thin cups, 5 out of 5 is thick. We would rate the thickness of the cups of the cups of this bra as 3 out of 5. Medium thickness.